Ban T-Shirts is a brand that stands for and speaks out about political and social causes. From anti-racism t-shirts to environmentally conscious t-shirts, the brand covers various current and timeless topics. I interview Duncan of Ban T-Shirts to get more info about the brand.
MC: What made you decide to start Ban T-Shirts? How did you go about establishing the brand in the beginning?
BT: I started Ban T-shirts due to the boredom and creative frustration I felt with my day job. There was very little room for creativity in my work and I felt that that side of my personality was being stifled. So I started doing a few designs and putting them up on my site to see if they'd sell. And slowly it started to grow. I think the name "Ban T-shirts" is a fairly accurate representation of the range of designs on the site, but I don't try to create any kind of branding. I just develop the site and designs in the way I think looks best and that comes naturally to me.
MC: Do the t-shirts sold on your site represent a clear political stance that's aligned with your own political beliefs? Or do you create some t-shirts based on political messages that you don't particularly agree with, yet others would?
BT: I certainly have strong political beliefs – that much is fairly obvious when you look at the site. To me it has never been enough just to make some funny or clever shirts that make people smile, there has to be some deeper and more profound underlying meaning to what I do. I don't align myself with any political party or belief system. I have opinions about what I see as being the issues affecting humanity. The vast majority of shirts are reflections of my political stance on the subject in question. There are a few which I did because I thought they would sell, notably the Obama shirts.
MC: Did Ban T-Shirts start out providing custom t-shirt screen printing services as well, or did you only sell t-shirts when you first started?
BT: The screen printing services are provided by Brunetto T-shirts. I offer them through Ban T-shirts working on a commission basis.
MC: What's the biggest challenge you ever faced while running Ban T-Shirts? How did you overcome this challenge?
BT: I guess one of the challenges is maintaining a topical range of shirts and not going out of business! It would be easy to get a bunch of shirts printed up about some recent event in the news, sell two and then be left with a box of shirts I can't sell because they're yesterday's news. I try to make shirts that are topical but in non-transitory way – by that I mean shirts that you'll still be able to wear in a year's time and still be making a valid point. I also made a decision after the election to focus on issues rather than personalities. Issues are usually more important than personalities. T-shirts about politicians, celebrities or other well-known public figures tend either to be of the cheap shot variety or ever so slightly fanatical.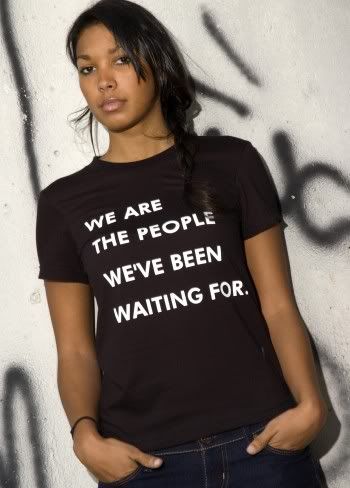 MC: So, how do you feel about Bush being out of office and Obama being in? How do you think the new political environment will affect your business?
BT: I am very happy that Obama is in office. He is certainly a big step forward after Bush, and McCain/Palin would have been awful. However I don't think he will make a substantial difference to the political system or advance democracy in any meaningful way. I also think there is a very real danger that people are becoming apathetic, because "hey, we got a good guy in office now". To put it very very simply – I'd give Bush 1 out of 10 and Obama 3. But actually I think the problem is not so much to do with Obama who is probably doing as much as he thinks he can get away with, but with the powerful people and vested interests in America and the rest of the world who don't want things to change. These people who want to maintain the status quo are the people that Ban T-shirts is really fighting against, not the public figures who are often little more than puppets.
As to the business side of things, to be honest sales are down a little on last year, but I think that is probably more to do with the corporate theft of public money (otherwise known as the "recession" or the "economic downturn") than with the change of President.
MC: What plans do you have for Ban T-Shirts in the upcoming years?
BT: My plans are just to keep on creating cool designs with political and provocative messages that people want to buy. I think the only way to stay afloat in the busy and crowded world of t-shirts is to make shirts that people like.