BrandNew Clothing is an esoteric luxury brand founded by Scotty Taylor, who has been working hard to bring the latest fashions and trends to to his online store. BrandNew strives to deliver an always changing style that revolves around the keen eye of today's fashion friendly youth. I interview Scotty Taylor to get the behind-the-scenes scoop on BrandNew Clothing.

CG: What's the idea behind 'BrandNew Clothing'?
ST: BrandNew is an esoteric luxury brand focused on rapid fashion for distinguished youth. BrandNew Clothing designs and sources clothing and accessories, distributing through a network of retail boutiques & wholesale channels worldwide. The objective is to create stylish apparel that is always changing. Since its founding, BrandNew has become synonymous with quality, excellence and a fresh-youthful outlook.
CG: How long have you been in the apparel industry? What have you learned?
ST: BrandNEW was conceptualized in 2004, although its founders have been engulfed in the garment business for many years now. We have learned how to stay fresh and maintain a nominal level of swagger.
CG: What are your top 3 favorite t-shirts in your shop?
ST: With so many great shirts, its hard to pick three favorites. The "Light it Up" tee is an all time classic and the "Hollywood" tee is one that stands out as well, but right now the artist series "BN Exponential Sessions" shirts are getting heavy rotation for all of us.
CG: Who would you say you're target market is?
ST: Our "target market" encompasses both males and females ranging from 13 to 31. They love life and living well, enjoy all types of fashion but focus on a clean streetwear vibe. Our customers are snowboarders, skaters, musicians, and intellectuals.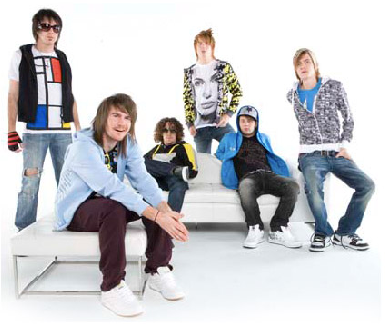 CG: What are your best methods for promoting your shop and reaching your target market?
ST: The best way for us to reach our market is by giving our customers the highest quality tees available. We sponsor events and parties plus use our blog and Youtube to let our customers know what's new. People can always find out about our latest tees and accessories on our website brandnewclothing.com.
CG: Who's that lady on the 'Hollywood' shirt?
ST: Who isn't that lady on the 'Hollywood' shirt? She is a humanitarian, the daughter of Jon Voight, an Oscar winner, has thirteen tattoos, and has been cited as the world's most beautiful women. She is Angelina Jolie. Oh yeah, she is also a MILF.
CG: What are your plans for Brand New Clothing this year?
ST: BrandNEW Clothing plans on doing what it does best, staying BrandNEW. We are here to lead in a new direction, bring a fresh look on distinguished youth, rapid fashion, and keen sense of style.
"IT'S NOT JUST BRANDNEW THIS SECOND, OR TODAY, OR EVEN THIS YEAR…. BUT CONSTANTLY"