April 24, 2009
By Moustapha Camara
We interview Jing Liu, lead designer of bamboo clothing brand Juzd.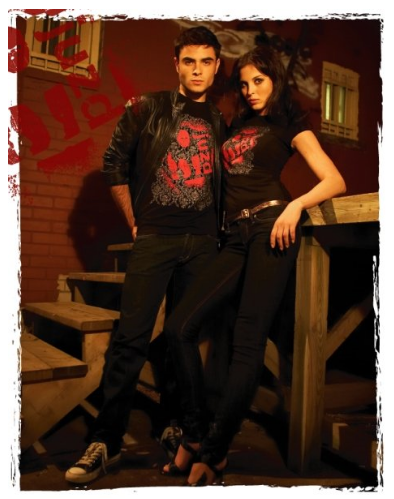 MC: So, what's the main idea behind the Juzd brand? Explain the concept and why you started the brand.
JL: JUZD is short for "Juiced". JUZD is a state of mind. When you put on the shirt you are JUICED. You reach your alpha persona and become unstoppable. The reason I started the line was the big brands nowadays don't really stand for much and do not have a core philosophy. Brands out there would buy random designs from artists base only on the fact they think it will sell. There is no conscience with clothing lines anymore, no deeper meaning or purpose.
MC: It seems that printing t-shirts on bamboo must cost more than printing on cotton. What are the benefits of having a bamboo shirt, beyond the eco-friendliness?
JL: To be honest we don't stress the eco part; eco does not sell. Ask any buyer that tried to spin the eco angle on clothing they carry. The main reason people buy the shirt is the custom designed and milled bamboo fabric. It feels lightweight, breathable, and it kills body odor and bacteria. Yes, it KILLS bacteria so you can wear this shirt for 5 or more days without washing. Go ahead, test it! ;) It keeps you cooler in hot days and warmer in cold nights. It's UV protectant so it protects you from skin cancer. We designed and develop this exclusive fabric so on one else has it.
MC: It's cool to see that your t-shirt was worn in a Cosmo Magazine commercial back in 2008. Did you send your shirts to Cosmo, or was it just a lucky occurrence in which they happened to have someone wear your shirt?
JL: I was on my way to the airport when I got a Facebook message from one of my models saying she saw my shirt in a commercial. I couldn't believe it and tried to get more info from her. I was really anxious on the flight there thinking about it. I didn't get a chance to get online until I reached my hotel in Miami then I still had to spend a couple of days of asking around on Facebook to finally find out it was a Cosmo Magazine commercial. Finally the night we left Miami I located a Youtube version of it! Just a month ago we got in contact with Josie Dye, she was the star that wore it. She said that they asked her to dress like a rockstar so she thought of the JUZD shirt. Sweet, JUZD shirts make you a rockstar!
MC: I see you have people from Chris Bosh of the Toronto Raptors to Fergie representing your brand. How did you get a whole host of stars to get behind your brand?
JL: It's really amazing the amount of support that we get. Almost anyone that we meet and introduce the brand to wants to support and help spread the word of JUZD. With Chris Bosh, a friend of one of my team members asked us for one, she said she can pass it to Chris Bosh. After several months with not a single word from her we got this email saying that Chris Bosh loves the shirt and wore it for a video that will be airing during the Thanksgiving Raptors game. His manager also loved the shirt and we ended up making handmade design for him for his birthday party. We got in contact with Fergie from someone I met long time ago. He loves JUZD, too, and invited us to do a fashion show for her birthday party. We also got Estelle and Howie Mandel wearing it, surprisingly when I gave them one, both of them loved it so much they asked for a second. Is that typical of stars?
MC: Who's your target audience and what methods do you use for promoting your brand to your audience?
JL: Our target are the Fashionistas, those that want the latest and newest stuff that others don't know about. Based on the fact that our brand is not well known but our price point is high, we found that the most effective way of reaching the consumer is through sales people at the store. We need to educate them and get them excited about the brand.
MC: What's the best part about running a clothing line?
JL: The hot chicks hitting on me and chilling with free bottles in clubs and hanging with celebs. Just kidding, those are nice perks but what gets me off is the designing, able to express myself to a mass audience and have people come to me and say "Your s#!t is HOT!" It's also great to have people stop me and say "nice shirt" and be able to reply back "Thanks, I made it!"
MC: What are you looking to accomplish with Juzd in 2009?
JL: I want to expand into the main markets in LA, NY, and Miami. I want to be able to have more stores carry the line so that financially I can be more creative in what I create and develop. For me it's all about the creating and designing.