June 6, 2009
By Moustapha Camara
Poison Apple was founded by Mark Lim, a guy who's "consumed with Googling his own name, playing Scrabble, and getting way too competitive over pointless games". Lim started the company in 2003 after dropping out of California State University at Fullerton. I somehow stumbled upon his site (not using Stumbleupon), and after observing Lim's goofy persona, I had to interview him on T-Mag.
MC: Let me just start of by saying: you're a really wacky character! I mean that in a good way. How has your personal character contributed to your brand's success?
ML: Why thank you! I think when people watch videos of me cooking bacon or assembling an office chair to techno music they get to know me and become more comfortable with the fact that they're actually giving a total stranger their credit card number. When you add a face and personality to your company people seem to trust you more and small businesses need that trust from their customers. Adding your own personality makes your company a living thing that people can watch develop and be a part of. It's no longer a faceless entity, it's something people can relate to.
MC: You're a funny guy, but you don't sell funny slogan t-shirts or humorous tees in general. Why not?
ML: Before Poison Apple Shirts my friend and I started a company called Thorax Clothing where we tried to sell humorous tees but it never caught on. I think we only sold 1 shirt and had to split the profits of $17 between us. I never liked slogan tees and I hated wearing shirts with big company logos so I decided to just use my own hand drawn artwork.
MC: What has been your most memorable experience since starting Poison Apple in 2003?
ML: I had just dropped out of college and had no future so I begged my dad for money to buy a screen printing machine to start a t-shirt business. I was so excited the first day I brought my baby home, but after a few hours, I realized I had no clue what I was doing. I ruined everything I touched that day and I couldn't have felt any worse. My most memorable moment was printing my very first shirt the next morning. Once I knew I could do it, I knew I could do anything.
MC: The Poison Apple Mobile looks great! What reaction do you get from people when you roll up in that car? Do you sell t-shirts out of the back of your trunk as well?
ML: People stare at my car all the time and I have to remind my friends, especially the ones with short fuses, that when they ride with me the people are staring at the car and not them. Sometimes my friends will roll down the window and yell out an expletive because they think they're getting gawked at.
My favorite reactions are from little kids because they're not afraid to point and say what's on their mind. They think I'm the ice cream man.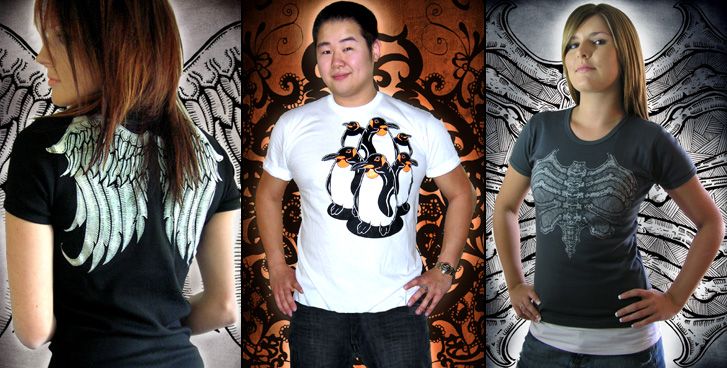 MC: Due to the great weather, do you think t-shirt entrepreneurs living in Southern California (like yourself) have a major advantage over those in the New York metro area? How have you used living in Southern California to your advantage when it comes to promoting your brand?
ML: California has prefect t-shirt wearing weather but I actually sell more shirts to the East Coast than I do to the West Coast. I guess it's because there's a lot of competition out here and the big trend in California is the Mixed Martial Arts T-shirts. There's nothing to do in the desert heat other than to ride quads and beat each other up so more outskirt Californians are attracted to the aggressive sweaty violent brands. I'm just not into that.
California is a great place to sell to boutique stores but Ebay is where I got my big break. I started listing a few auctions at first and when the demand increased I started doing it on a regular basis and that drove customers to my personal website which increased my sales.
MC: What's Ohsofat.com all about? Are you really on a 'journey into obesity'?
ML: I created OhSoFat.com because I was so sick and tired of seeing those gorgeous juicy burgers on TV and then having my dreams crushed when I saw them in real life. I wanted to document the burgers the way they actually are, a ball of disappointing squished greasy bread and meat. I live on fast food so I know my stuff. Obesity is just a pleasant side effect :)
My food blog actually is one of the best things I've ever done for my t-shirt company. I cross advertise my shirts on it and it really helps my sales. It lets me reach an audience that I normally wouldn't be able to reach.
MC: What's the most important piece of advice you can give to an aspiring t-shirt brand owner?
ML: Find your niche. Create a recognizable style for a specific demographic and advertise to them. It's so much easier to market if you have a theme to your T-shirts. People in that community will spread your brand like a virus. Once you get known for something then you can expand to different things but when you start out you have to focus focus focus.
MC: Where do you see your brand 3 years from now? What do you think you will have accomplished within that time span?
ML: This year I plan on expanding my internet base by putting more energy into underground internet advertising like making videos and blogging. It's the most cost effective and efficient way to get your name out there. Next year when the economy is better I plan on purchasing magazines ads and selling to more brick and mortar stores. In 3 years I plan to totally automate my company and run everything from my laptop so I can sit on the beach in my Speedos and drink beer. :)