April 24, 2009
By Moustapha Camara
I interview Lewis Boyce, creator of t-shirt brand Suffoca.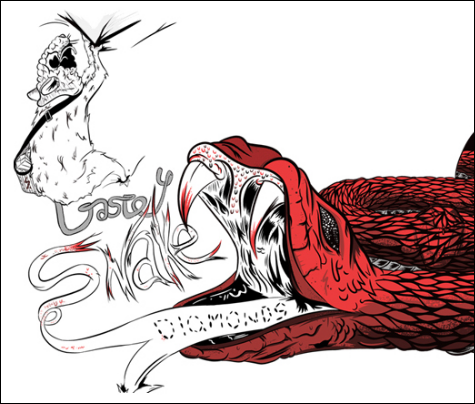 MC: So, what's the general idea behind Suffoca?
LB: Suffoca, the feeling when you were a kid and not allowed sugar before bed then sneaking into the kitchen to take a spoon full, later, with eyes open wide and your feet dancing in your bedroom, you cant think of a reason not to do it again! The idea behind Suffoca is to make something a bit different which you can collect, follow or stare at while your eyes melt from the small hidden details.
MC: It seems that all of the Suffoca tees are hand drawn. Why did you decide to create your t-shirt designs that way?
LB: I guess I stuck to to this look because it was one I wanted to wear myself and it keeps my drawings at the highest quality for the clothes.
MC: How long have you been in the t-shirt biz? What have you learned so far?
LB: Suffoca started selling last year so I'm still quite new. You have to work hard for everything, even the little things that people may not even notice, but it will make it all worth while.
MC: That blinking eye on your site is awesome! How did you come up with that?
LB: Ha thanks, I love the eye of providence and use it in my drawings quite a bit and have been using it since the start in the shirt labels and on the top of my site to look over all the viewers and buyers.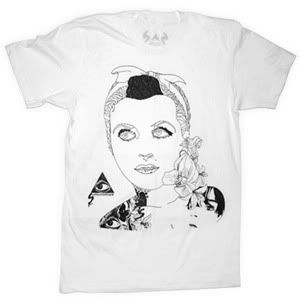 MC: Great job with your feature in Front Magazine. How did you make it happen?
LB: I got speaking to Sim Wise (Model/Writer) and got to know the whole front team, their all great to work with.
MC: What's the best part about running your own t-shirt brand?
LB: The best part is just hearing from people who own or just enjoy my work.
MC: I see that you sponsor a few bands. Did you approach the bands to sponsor them, or did they find you?
LB: Erm, it's been a bit of both, I like the whole idea of sponsoring, but I like keeping my numbers low and limited like the apparel it's self, I've seen all the people I support, so I know they will do Suffoca justice and that I can help them.
MC: I was checking out your media section and I just wanted to know…what the hell is the Bananaman and Poddington Peas?
LB: Ha, the media section is really bare at the moment, I've been meaning to put up some download material, but for the mean time I put some old classic clips from favorite movies or my childhood cartoons. Old cartoons and comics are awesome, there's always so much crazy stuff going on, iv always wanted to one day make my own.
MC: So, what's next for Suffoca? What are your goals for the future with your brand?
LB: I'm just working on getting the next line out, I'm taking on a few new products on which haven't been in the store before and have based the line on a theme which I'll release later on. I want to take Suffoca on to a much more custom look of products. I would also like to do some customer involved events.